Discover more from Page One
Providing a concise and objective overview of recent events in crypto and NFTs
Over 11,000 subscribers
Announcements and such:
Nothing special from me this week so just the usual - hit me up with any feedback, good or bad, and let me know if there is something you'd like us to touch on whether coins or NFTs. We'll have an April recap post coming out late this week/early next week and I'll be back on Tuesday. In the meantime, hit the button and come hang out.
TLDR:
---
News and Notes:
Anonymice saw an influx of demand after co-founder Mouse Dev and team helped unlock some of the funds lost in the Akutar contract. The Mice team has always been happy to help communities across our space and gained a bit of praise for helping find a partial solution when all seemed lost. While they don't generate buzz every week, a devoted community has kept developing since the Mice started the staking meta last fall. They're currently preparing to release Evolutions - which will require a Baby Mouse and an incubator - over the coming weeks and will have an AMA on the topic today in their Discord.
The Boring Ape Chronicles (seen above) have been on an explosive run over the past month, seeing the floor 10x from ~0.35 to around 3.5e. The collection, created by pixel artist Timpers, contains six episodes, one animated production and one eBook. Only 100 editions of each episode exist while there are 3,000 eBooks, each of which grants the holder one mint from the upcoming Chimpers generative series. Collectors who acquired episodes 1-4 were rewarded with episodes 5 and 6, an eBook, and a Diamond Fleece that can be burned for a Genesis Chimpers. Given the success of The Boring Ape Chronicles and Genesis Chimpers - whose final 1/1 auction reached a price of 52.5Ξ - the generative Chimpers collection will be well-anticipated. Watch their Twitter and Discord for more info regarding mint details, which remain unannounced. This thread is a good summary of the project so far.
DeadFellaz is the latest NFT collection to sign with a creative agency, inking a deal with United Talent Agency to expand their reach across media forms including partnerships, merchandising and gaming. DeadFellaz joins CryptoPunks and Meebits in UTA's roster of web3 representatives. The Fellaz have solidified themselves as a respected web3 brand and will add some detail to their expanding universe when the first Deadfrenz roadmap releases on April 28.
EightBit Me flew to incredible new highs over the weekend, peaking briefly above 2Ξ before retracing. In 2010, Addison Kowalski launched EightBit Me as a side project while working at Digg, the online media company founded by PROOF CEO Kevin Rose. Speculation around a collaboration with Moonbirds has made its rounds, including talk that EightBits could be granted access to the Highrise, PROOF's upcoming metaverse. Regardless of that possibility, EightBit is a project with a history that many have come to appreciate.
Moonbirds and PROOF Collective COO announced new rolling investment fund on the 24th. The community reaction was overwhelmingly negative and PROOF CEO Kevin Rose announced that Carson would be departing the company to focus on his fund on Monday morning. Despite the potential setback, Moonbirds have been cozy in their nests over the past few days and sales continue to pour in, keeping the Birds atop the volume rankings since their release.
Mutant Ape Yacht Club continued climbing over the past week, briefly reaching an all-time high floor price of 40Ξ while Bored Apes set a new all-time high at 146Ξ floor. Demand for access to the Yuga ecosystem only seems to grow as the primates' price rises and their empire grows larger. The newly-acquired Meebits also got a bit of love after BAYC co-founder Gordon Goner hinted at some upcoming plans. All eyes turn to the Apes this weekend as we enter The Otherside - more info on that below.
PREMINT Pass has seemingly become a must-have since launching less than a month ago. The leading (only?) whitelist raffle service, PREMINT was founded in October 2021 and has been used ubiquitously so far in 2022. While anyone can register for most raffles on PREMINT, pass holders gain access to exclusive raffles (that don't require them to join Discords or follow Twitters), an inbox to view their entries and a host of upcoming features including a calendar and a newsletter. On Monday, they announced that all holders can claim a free Ledger hardware wallet. While this may not seem like much given its relatively small value, their efforts to help holders secure their digital goods signifies their commitment not only to providing value, but also a bit of education.
---
Recent Launches:
Akutars mint day went awry after an error in the contract locked the funds, rendering them unretrievable. Over $34M is gone, but Mouse Dev and other community members helped find a way to return at least some of the funds. NFTs were airdropped to those who bought during the auction, but it took a few days to sort things out before that could happen. The team took it as best they could, reimbursing pass holders from the treasury. Although some were understandably upset, their community largely rallied around the team. Micah Johnson reflected and apologized for the situation, saying it will serve as a learning experience for him and hopefully for others as well.
Dolce & Gabbana Family Glass Box released on the 24th. The iconic Italian luxury brand is taking its first steps into the world of crypto with a mysterious box that grants access to the DGFamily, granting holders access to exclusive drops, physical goods, future airdrops and IRL events. Two events are already planned: one at NFT NYC and one at Art Basel in Miami. Following rival Gucci's metaverse debut a short while ago, D&G looks to expand their reach while, hopefully, establishing themselves in a space that will only continue to grow.
DRIP is the first single from Bored Brothers, a musical duet made up of Kygo and Ryan Teddor of One Republic - or, of their Bored Apes. 300 editions of the song dropped on Sound.xyz on the 22nd. They aren't the first famous Apes to drop some music - that title is probably held by Snoop Dogg - but their pseudonymous act lends increasing credence to the use of Apes and other avatars as musical personas - something Universal Music Group already firmly believes in.
Imaginary Ones began their mint late Tuesday night. 4,200 allowlisted wallets have 24 hours to mint for 0.2Ξ while the rest of the supply will be sold in a Dutch auction starting at 50% of the floor price or 1.5Ξ, whichever is lower. The collection consists of imaginary beings made up of floating orbs in a 3D, walking style a-la Invisible Friends. Their roadmap includes partnerships and collaborations, merchandise and a virtual art gallery and mentions a myriad of other possibilities ranging from NFT tools to a native token to a community fund. The Dutch auction will begin at 11PM EST tonight.
Non-Fungible Films Pass sold out their mint after cutting the supply down to 1,000 units. NFF is an entertainment studio focused on empowering their community and bridging the gap between web3 and traditional media. Founded by Cameron Moulène, an experienced NFT trader and Ape holder, NFF has cultivated a team with experience in the industry and a roster of ready-to-use IP including their debut series Oscar Haley and the Great Beyond, their forthcoming avatar collection. They've also licensed over 50 Bored Apes for use in productions and have a partnership with Non-Fungible Heroes to develop and produce media and entertainment content.
RTFKT x Nike Dunk Genesis CRYPTOKICKS popped out of MNLTHs on the 22nd alongside a Skin Vial used to change the shoe's appearance and another MNTLH. There are eight different skin vials, each associated with a Clone-X DNA type. Skins can also be evolved, burning the previous Vial and creating a new, higher-tier Vial with more details on this coming in the future. The RTFKT ecosystem has quickly grown into one of the largest in the space and shows no signs of stopping, as the marketplace description for Skin Vials insinuates more CRYPTOKICKS may not be too far behind. Currently, about 8,200 MNLTHs have been opened, leaving ~11,800 left in circulation. There is currently no requirement to open the MNLTH.
Whiskers, the latest cartoon avatar collection, are magical fish that live in the Grand Pond. Created by multi-disciplinary artist Rico, Whiskers remains intentionally vague about what is coming with the intention to underpromise and overdeliver. With well-known cryptoartist and model Allison Harvard leading their community and collaboration initiatives, they've gained a large following and appear to have plenty in store for holders.
---
Upcoming Launches:
NFT.com, a new marketplace, is currently holding their first Keys auction for those who are whitelisted. 3,000 Keys - each of which instills the holder with governance rights over the marketplace - are available in this blind auction that will end at 7PM EST on April 28. The new marketplace, which counts Cozomo De Medici and Kevin O'Leary amongst its partners, will have a public auction for the remaining Keys on May 2 at 7PM EST. NFT.com aims to create a community-centered marketplace where new users can easily be onboarded - read more here.
NFT Worlds Avatars will release on May 4 for those on the whitelist while a public sale will be held on May 5. Each of the Genesis avatars is unique and can be staked to earn $WRLD from marketplace fees. Avatar holders will also receive access to exclusive in-game titles and roles. The whitelist price will be 0.4Ξ and the public sale will be a Dutch auction starting at 1Ξ. Anyone who owns an NFT World is automatically on the whitelist. Read the full details here.
The Otherside will premier this weekend, confirming the launch date that many have been waiting to hear for weeks. Those who completed the KYC on somethingisbrewing.xyz are eligible to participate in the sale, which will be a Dutch auction denominated exclusively in ApeCoin. Besides what is said in the thread below, details are sparse: the opening price of the Dutch auction, the number of mints per person and the total supply are yet to be announced, although 100,000 units seems like the speculator's consensus. Keep an eye on The Otherside Twitter account for more info as it rolls in.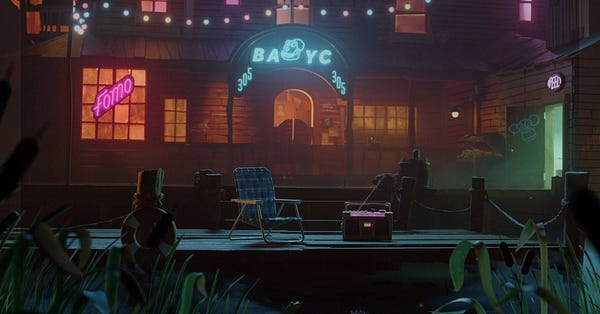 somethingisbrewing.xyz
Yuga Labs x Animoca Brands
Something is brewing in the swamp.
Ragnarok will mint on April 27 in a fair-price Dutch auction, meaning anyone who pays more than the lowest price can claim a refund for the difference. The project has ambitious goals: they aim to become the defining web3 MMORPG, creating a universe where users can socialize, play games, and adventure into the wild to quest, fight and loot. The roadmap details how they will get there, moving on to playable characters, breeding, a marketplace and monster companions after the mint is through. Combat with characters, NFT items, a fuller economy and buildings and billboards are in the cards for the latter half of the year. Their mint will take place at 1PM EST tonight.
---
NFT Market Overview:
After OpenSea's acquisition of Gem, I figured its a good time to take a look at these charts displaying sales on Gem sorted by exchange. The third chart compares LR and OS volume over the past two months (and filters out wash trades).
While some traders may not frequently visit LooksRare or Gem, these charts illustrate the impact that LR has had on the secondary market over the past few months. LR transactions on Gem have increased over the past few weeks - particularly since LR's listing rewards rolled out. The second chart displays LooksRare's steadily increasing portion of Gem's marketshare and the third shows that organic volume on LooksRare has seen an uptick since they introduced listing rewards.
As LooksRare continues to introduce new features and users continue to turn to Gem to purchase NFTs in a quick and easy manner, I expect to see these trends continue to some degree. Users only stand to gain from transacting on LooksRare given the listing and purchasing rewards and Gem makes most parts of the NFT experience simpler. Observing these trends - and any potential changes to come at Gem - should be fun over the next few months.
---
NFT News and Happenings
As always, thanks for reading - subscribe below to get Page One delivered weekly.